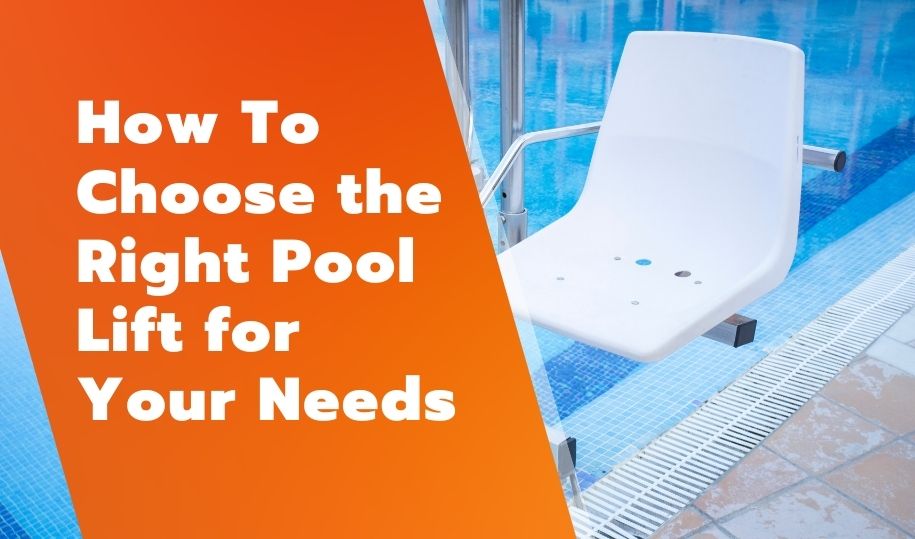 The heat is rising every day, and it's about time for you to find a way to reliably cool yourself off. While swimming might seem like a simple action for many, those with mobility struggles often find themselves separated from the fun. Due to these conditions, some individuals may not be able to swim as strongly as others, putting themselves at risk if they even go near the water. Fortunately, specialized pool lifts exist to help you in and out of the pool or spa, keeping you secure and safe the entire time.
Still, it isn't enough to just have a designated lifting system for your private pool. You also need to ensure that it's the right one for your specifications. Here's how to choose the right pool lift for your needs.
Why Picking the Right Lift Is Important
When it comes to using a pool lift for entering and exiting your pool, not just any product will work with your distinct needs. Each lift will be slightly different depending on its make and brand, and you may get more support from some products than you do from others. Because of this, it's crucial that you hunt for the ideal pool lift instead of the first one that seems like it'll do the trick. Choosing the right pool lift for yourself can help maintain your comfort, reduce the likelihood of injury, and improve your overall outdoor experience this summer. So really take the time you need during the shopping process.
Elements of an Effective Pool Lift
Now that you know why it's crucial to look deeper into each pool lift before buying one, you must consider a few key features. As previously mentioned, pool lifts aren't all the same. But there are some specific characteristics that all quality products have. These are some of the core elements of a quality pool lift to be on the lookout for.
Disability Support Design
No two people have the same mobility struggles when it comes to getting in and out of a body of water. As such, you shouldn't have to settle for a cookie-cutter seat design. Some pool lifts have a design that relieves pressure from the legs, while others utilize additional support devices like head rests to accommodate neck and back pain. Yet, although they're different, each product still has a design catered to a specific type of physical support, and it's vital that you find the one that best provides the amount of assistance you need.
Weight Capacity
The perfect pool lift for your needs will also have an acceptable weight capacity for regular operation. After all, these machines are of little use if they can't reliably lift you or a loved one. There are two weight capacity types to consider depending on how you plan to use the lift: standard and bariatric. Standard use lifts, like those on private residences, must support a minimum of 300 pounds at one time. On the other hand, bariatric products are commonplace in commercial and medical facilities and hold up to 450 pounds.
Powering Options
Look for a powering option that best fits your operational needs as well. Pool lifts come in manual, hydraulic, and battery lift models. One of these options could work better for you than the others, depending on the accessibility of a power outlet. So take this into account as well when making your decision.
Overall Lift Aesthetic
Make sure that you're thinking about the overall look of your pool lift too. Although it isn't the most important feature of these products, you should pick one that can blend in well with the layout and style of your pool and deck space. Otherwise, it can feel like a large obstruction, ruining that tranquil atmosphere you're trying to create for yourself.
Tips for Purchasing the Best Lift for Your Needs
Still, no guide on how to choose the right pool lift for your needs would be complete without a few additional tips for making your decision. The previous points are essential to remember during your selection process. However, you might also need to assess your home or personal needs to pick the product. Here are a few helpful pieces of advice.
Consider Your Personal Support Needs
As you're shopping for your own pool lift, one of the most impactful things you can do is assess your own condition and range of motion. Try identifying the areas of your body that need the most support, or even talk to your doctor about what type of lift they'd recommend for you specifically. This is the best way to narrow down your search early on and find a product that will definitely keep you comfortable.
Assess the Type of Pool You Want To Access
It's also important that you clearly understand the type of water you want to use your pool lift for. While many people use these devices for private residential pools, they can also aid when you're getting in and out of spas or ponds. Some models will function better for a few of these applications but not as well for others. Therefore, determining where you're going to use your lift most often is the key to making the most appropriate choice.
Understand How You'll Mount Your Lift
Make sure you know how you'll mount your lift as well. These machines require ample security to maintain their stability and effectively accommodate your weight as they operate. As such, understanding where you want to put your lift and the method you want to use for mounting it is vital to making it work with the flow of your property. You can choose a permanent installation on your pool deck or opt for a portable lift that you can maneuver as needed. Either way, it should accommodate the way you want to experience the pool.
The right pool lift can set you up for summertime fun and relaxation. So don't settle for less when you could be having the optimal swimming experience alongside your friends and loved ones. Rescue Supply provides a selection of premium handicap swimming pool lifts, each specially designed to accommodate the distinct needs of those with limited mobility. So browse our inventory for the best range of products at an affordable price.