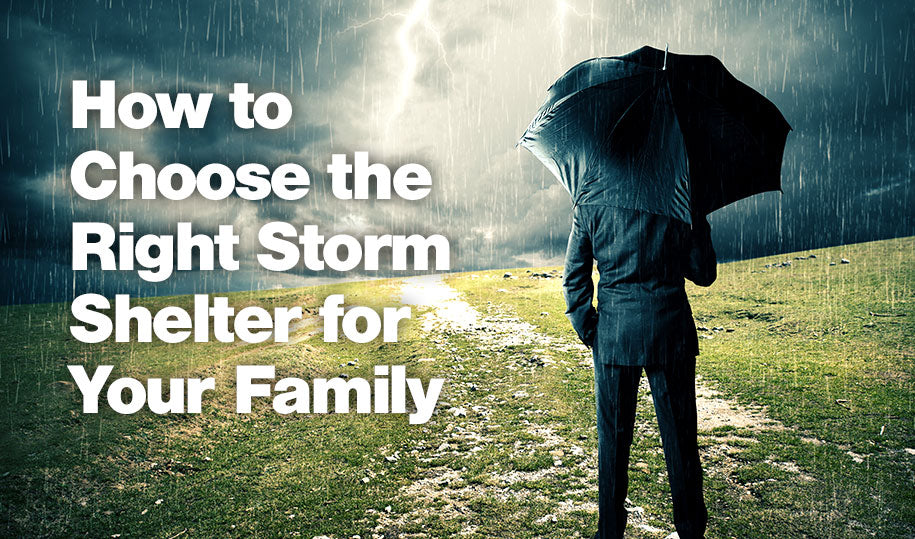 In a perfect world, it's bright and sunny every day.
And in that perfect world, we never have to worry about our safety. Rather, we can live freely knowing that we are protected and safe.
Unfortunately, this isn't the world we live in. If you live in an area where the weather can be unpredictable, you already know this. All it takes is that one unexpected storm, that one deadly tornado, to turn your world upside down.
That's why it's important to take the steps necessary to ensure you and your family's safety. With the right storm shelter, you can get one step closer to the perfect world and guarantee that your loved ones are safe in times of duress.
Understandably, it can be hard to choose the right storm shelter. With so many options available, it's not always clear which shelter offers the best protection.
That's why we're here. In this guide, we'll show you two of the top options for anyone looking for a quality storm shelter and discuss the benefits these shelters have for you and for your family. Specifically, we'll focus on the TornadoSafe Underground and Above Ground Garage Units, which have become popular items for those looking for maximum security at an affordable price.
Are you ready? Let's dig in!
What is a Storm Shelter?
Storm shelters are units that are designed to keep you and your family safe during a severe weather emergency. Not all storm shelters are created equally, however, so it's important that you find the one that offers the most protection for you and your loved ones.
The Advantages
A storm shelter has several advantages for your family. The first and most obvious is that it can protect you and your loved ones in the event of a storm. This is especially important if you live in the Midwest or other tornado-prone areas.
Depending on the size, you can also use your storm shelter for another use: protecting your assets. If you purchase a larger shelter, you will not only have room for your family (and pets, of course!), but also for many of your most precious items and assets.
For starters, it offers the maximum in tornado and extreme weather safety. Because you never have to leave the confines of your home, you and your family won't be exposed to dangerous debris in the event of a storm.
What's more, the installation has never been easier. Qualified experts will have your shelter installed within four to eight hours. With great durability and upkeep, you won't have to worry about these shelters wearing out!
Remember that ShelterShield technology? It will protect your shelter from any liquid substance that can be found in your garage. This means that no matter what you spill—paint, oil, varnish, and more—you won't have to worry about leaks or your shelter being damaged.
Available for only $4,199.00, this shelter should be the top option for anyone looking for an underground shelter. This price includes removable steps (6 inches) and benches (8 inches) that are included for the comfort of you and your family. All extra materials are also coated with ShelterShield—giving your shelter the protection it deserves!
A store-away handrail is also included with your purchase so that no one will have any issues getting into or getting out of the shelter. This convenience gives this a leg up on other shelters.
With sizes that range from seven to thirteen people, you won't have to worry about fitting all your family members. Keep in mind that the price of your unit (and your unit's installation time) depends on the size of the unit that you buy.
The TornadoSafe Underground Garage Unit is welded from steel that won't bend or break when the going gets tough. Crafted from years of technical ingenuity, this is one shelter that's designed to keep you and your family safe at all times.
What's more, because this unit is installed underground, it won't change the aesthetic of your home. In fact, visitors to your home may never even know the device is there! Furthermore, it won't get in the way of your work or take up any unnecessary space!
To exit the shelter, you simply need to pull on the latch located overhead. This will allow for the easy exit of the storm shelter once all weather conditions have calmed and cleared.
Overall, this is a solid disaster shelter for anyone looking for a little extra security.
Underground Garage Unit Specs:
1. Constructed of Heavy-Duty Steel (with a ¼" Steel Lid)
With this item's pure 10-gauge steel construction, you'll never have to worry about being vulnerable in the event of a storm. You can also count on this safe room to withstand the wear and tear of daily corrosion.
2. Meets and/or Exceeds All FEMA 321, 360 and ICC 500 Protocols
This storm shelter blows the competition out of the water when it comes to durability in design pressure testing, impact testing, and uniform load structural pressure testing.
3. Size Variety
This excellent disaster shelter comes in traditional small, medium, and large options, as well as a super jumbo option for those larger families. By choosing the size that's right for you, you can make sure your family gets the maximum protection in event of a storm or tornado.
4. ShelterShield Technology
This shelter is built with innovative ShelterShield technology that prevents against leaks.
5. Emergency Hatch
This shelter's emergency secondary hatch ensures that you can get out of its confines—even if the primary hatch won't open.
---
If the underground option doesn't sound right for you, check out this above ground shelter. Designed with the same quality ingenuity that makes the underground option so perfect, this above ground tornado shelter is perfect for anyone looking for a safe escape from inclement weather.
Above Ground Shelter Specs:
1. Durable Steel Construction
With an insanely durable ¼" steel lid and 1.5"x 3.25"x 1/4" C channel subframe, this is one storm shelter that won't get blown away in the storm.
2. Meets and/or Exceeds All FEMA 321, 360 and ICC 500 Protocols
Like TornadoSafe's underground option, this above ground storm shelter meets and exceeds all protocols when it comes to uniform load structural pressure testing, impact testing, and design pressure testing.
3. Reliable Anchoring System
This above ground shelter comes with a 5/8" Hilti system that will keep your shelter anchored—no matter what happens.
4. Bulletproof Window
How strong is this storm shelter? Strong enough to be bulletproof. You can be sure that your family is safe in this ultra-protective shelter.
5. Strong Door
The doors on TornadoSafe's above-ground shelters can open both to the inside and the outside of the safe room. What's more, these doors come with a 4-point deadbolt system that will make sure nothing can pry them open.
6. Powder Coated
Powdered coated both on the inside and the outside, these disaster shelters are reliable under any conditions.
These impressive features position TornadoSafe's above ground units as some of the safest in the business. If you are looking for a storm shelter that offers maximum protection for both you and your family, you can't go wrong with this durable, proven unit.
---
How Many People Can These Units Fit?
Available in extra small, small, medium, large, and super jumbo options, these above ground units can hold from three to sixteen people.
What's more, the door to this unit can be placed on any side. This means that installation is quick and easy!
These units come with a maximum height of six foot four inches, meaning that they easily accommodate even the tallest among us—no problem!
This disaster shelter is 100% ADA compliant, making it the smart option for your home. If you are looking for an option that will hold your entire family and keep them safe throughout even the toughest of storms, this durable steel shelter is for you.
Which One is Right for You?
Now that you know the two best options in storm shelter safety, how do you decide which one is right for you?
Really, it comes down to your personal preference. Do you want a shelter that sits above ground? Or would you prefer something a little more out of the way?
Either way, you are sure to get a durable option that will keep you and your family safe when the tornado or extreme storm hits.
For those with limited space, it's recommended that you choose the underground shelter. This will free up your space and give you an "invisible" hideout for when the storms break.
If you have room to spare, by all means choose the above ground option. Because this one doesn't require stairs or handrails, it's perfect for families with older or disabled members. If you or your any of your loved ones have issues with mobility, TornadoSafe's above ground tornado shelters may be right for you!
You may be asking, "Is one safer than the other?"
The answer is, "No." Both shelters are among the safest in the business. Simply put, no matter what option you choose, you will be safe from any storm.
---
The Bottom Line
Choosing the right storm shelter could prove to be one of the most important decisions you've ever made for you and your family. For this reason, it's important to know what to look for in a shelter.
Simply put, no shelter can out compete TornadoSafe's underground and above ground garage tornado shelters. These 100% ADA-compliant units, constructed of durable steel, have passed every major test—meaning that you never have to worry about your family's safety.
If you live in an area where weather is a problem, it's time to invest in a quality tornado shelter for you and your family. By choosing one of TornadoSafe's incredibly reliable options, you will be making an investment of safety that could protect you and your loved ones for years to come.
Whether you choose an above ground or below ground option, you are sure to enjoy a solid unit that won't break from storm damage or from wear and tear. If you are looking to purchase a disaster shelter, the time is now to make the right choice.
By choosing one of the above options, you can rest assured that your money is being put to good use. It's time to go with the options that will keep you and your loved ones safe—no matter the storm or disaster.
So don't wait! Purchase your TornadoSafe storm shelter today!