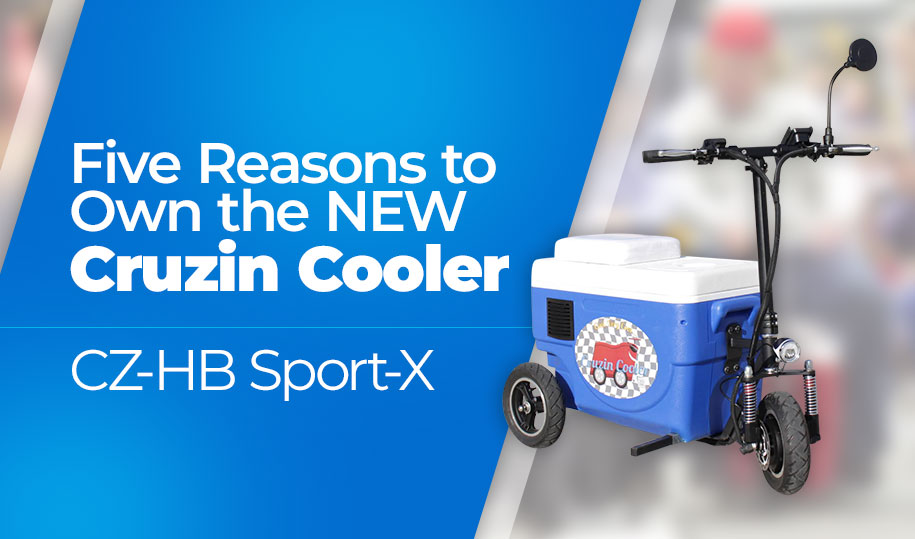 The Cruzin Cooler Sport-X Motorized Ice Chest Cooler Scooter is the fastest cooler to ever keep drinks cool! This motorized cooler combines two necessities in life, the ability to keep food and beverages cold along with the ability to get somewhere without walking.
The speedy Sport-X tops out at 13 mph and provides up to 20 miles driving range. It's lightweight and compact enough to fit into the trunk of most vehicles. The cooler can also be used for a variety of outdoor activities including, fishing, hunting, camping, golfing, and tailgating. If the problem is keeping your food and drinks cold, the Cruzin Cooler CZ-HB Sport-X is the funniest solution imaginable!
Watch the Cruzin Cooler Sport-X Electric Scooter with Cooler Tailgating Challenge Review!
Want to go grilling at the park? Have a picnic planned? No Problem!
The Cruzin Cooler makes it easier than ever before. Simply ride your cooler from your car to the tailgate party spot for unprecedented convenience! Designed for speed and reliable handling, you can safely ride your Cruzin Cooler and put it to work for you.
No more lugging around heavy, ice-filled coolers. Now you can enjoy your hunting, fishing, and picnicking experiences in style! Perfect for those who aren't physically able to lift bulky coolers or for those who simply want added convenience, the Cruzin Cooler is right for everyone!
Why Should You Buy a Cruzin Cooler?
"The better question is: why haven't you already?"
The Cruzin Cooler Sport-X Motorized Ice Chest Cooler Scooter is the perfect companion for all your outdoor activities.
When talking about the benefits of the Cruzin Cooler, it's hard to pick one that really stands out—because they all do.
Other Cool Uses for your Cruzin Cooler!
Tailgating
Golf Courses
Sporting Events
Parades
Business Promotion
& More!
The Most Fun You'll Ever Have on a Ice Chest Cooler!
The Cruzin Cooler eliminates the burden of carrying heavy ice-filled coolers in an amazingly fun & fast way!
Cruzin Cooler takes it to the next level by adding a motor—and with it, a whole new layer of fun.
Now, you can transport your cooler and drink contents in a way that's both convenient and fun. And with speeds topping out at 13 mph, you'll get to your destination in a very eye-catching and fast way.
With that being said, it's time to take a closer look at the top 5 reasons to own the Cruzin Cooler Sport-X Motorized Ice Chest Cooler Scooter.
Top 5 Reasons to Own a Cruzin Cooler Sport-X:
1. More Family Time!
The Cruzin Cooler helps you make family time more enjoyable and fun. Spend less time hauling drinks to and from your car and spend more time with your family!
With the Cruzin Cooler, you can make memories that last. Your whole family will enjoy the unique motorized experience. You can be sure that everyone will want to have a turn on your one-of-a-kind cooler scooter. It's just one more way to get your family involved and keep them interested in what you're doing.
2. Long-Lasting Performance!
With a range of up to twenty miles (dependent on weight), the Cruzin Cooler is designed to fit all your needs. Once charged, you don't have to worry about it giving out on you. This means you can use it to safely travel necessary distances on your outdoor excursions.
Think about that for a moment. Even if your camping site is seven miles from the parking lot, you'll still be able to make it there—AND back—without any worries. Could you imagine carrying (or even pulling) a heavy cooler for fourteen miles?
We can, but we don't want to. We'd very much rather ride the Cruzin Cooler in style. We're sure you would too!
3. 13 MPH Top Speed!
The Sport-X is capable of a blazing top speed of 13 mph! It's equipped with a variable 3-speed controller giving you the ability to set the speed you're comfortable with. With 3 speed settings to choose from, you can ride slow and steady or fast and furious, the choice is yours!
Not only is this more than triple the average human walking speed, but it's also considerably faster than you would be moving carrying a heavy cooler.
Now you can make sure that your necessary drinks and supplies arrive at the picnic before your guests.
4. Keeps You Involved!
The Cruzin Cooler is perfect for those who are experiencing reduced mobility as they age.
With the Cruzin Cooler, you never have to worry about being left behind. Simply ride along with your loved ones and be part of the group. Now, you'll never have to follow behind or feel bad about holding up the group. Cruzin Cooler puts you right in the middle of all the action.
With the Cruzin Cooler, you can feel like a kid again as you cruise your way to the picnic or any other outdoor spot. That's because Cruzin Cooler does more than add convenience to your trip: it restores your mobility.
Age is just a number with the Cruzin Cooler—and with your purchase of one, you can keep it that way.
5. Keeps Your Drinks and Food Cold!
It should go without saying, but any review of a cooler that doesn't mention this fact would be remiss.
It's easy to talk about the Cruzin Cooler's unique motorized ice chest cooler design, but it's also important to note that it will keep your food and drink cold.
That's right. The Cruzin Cooler is designed to perfectly insulate your food and drink from outside heat, keeping it colder for longer.
And because you don't have to wait around and carry it long distances, Cruzin Cooler can get your cold drinks to the table before the ice melts.
Even the hottest of days aren't a match for the Cruzin Cooler—as it keeps both you and your food cool.
By taking advantage of its motorized design, you don't have to break a sweat even when traveling distances of up to 10 miles and back.
And you can be sure that your food and drink will stay cold the whole way.
As you can see, the Cruzin Cooler offers several powerful benefits that you just can't find with outdated models.
Perhaps the best part of all is that now you can get it at a reduced price! We'll tell you how—and where—below!
Product Specifications:
Weight: 120 lbs. (with battery pack) or 75 lbs. (without battery pack)
Power: 800 Watt 48V Brushless Electric Motor
Rider Capacity: 300 lbs.
Cargo Capacity: 8 lbs. of ice and 24 (12oz) cans
Brakes: Dual Handlebar Controlled Brakes
Wheels: (3) 10" Pneumatic Wheels
Suspension: Front Steering Suspension
The Cruzin Cooler Sport-X Motorized Ice Chest Cooler Scooter starts at just $949.95—a whopping $50 discount when compared to other retailers!
Interested in Bulk, Corporate Discounts?  Call us Today at 800-239-1797
But that's only part of the reason you should buy from Rescue Supply. When you buy from us, you will get a FREE Cruzin Cooler Cover that shields your scooter from the weather and the elements!
That's right! The Cruzin Cooler Cover could be yours 100% free with your purchase of the Cruzin Cooler—but only if you order from Rescue Supply!
Don't make the mistake of ordering anywhere else and missing out on your opportunity to take advantage of these savings and great deals!
And that's not all! Make Rescue Supply your one-stop-shop for all your Cruzin Cooler needs! Rescue Supply currently carries both the Coolagon 50 Quart Ice Chest Wagon Trailer as well as the Cruzin Cooler Comfort Seat.
As an authorized dealer, you can be sure that you're getting only top-quality service and 100% authentic products.
And with their secure online payments, you can be sure that your information is protected. This gives you added peace of mind when you make all of your Cruzin Cooler purchases!
Included FREEBIES with Every Scooter!
FREE Rearview Safety Mirror Included!
FREE Cell Phone Holder Included!
FREE Seat Cushion Included!
What Our Customers Have to Say
Exceeded expectations - excellent customer service support

Absolutely love it. It goes so fast and it is so easy to use. You can even pull things behind you. Excellent purchase. The only problem, you kind of have to build it yourself and there are no pre-existing drill holes so it was a little tough. Love everything besides that.

Azzlyssas on Feb 11, 2021
The most amazing scooter ever!!!

This is my favorite purchase by far from Covid-19 2020. It is the most amazing treat and way better than a Harley or sports car. I have been driving through the neighborhood doing drive by birthdays, anniversaries and graduations in style. I have out drinks to neighbors and kids all while blasting some tunes and having a cocktail. But from this amazing company and you will not be disappointed. Absolutely phenomenal Item and buying experience!!!

Sara H. on Jan 29, 2021

 
Looking for Cruzin Cooler Accessories?
Have a large event or tailgating planned? Do you need more space that the Cruzin Cooler's 24-pack capacity motorized ice chest can give you?
Not a problem! With the Cruzin Cooler Coolagon 50 Quart Ice Chest Wagon Trailer, you can now add an additional 72 cans with ice to your party!
Check out just a few of the Coolagon's amazing features!
Cruzin Cooler Coolagon Features:
Large Capacity - 50 Quart Cooler
Extendable and Detachable Handle - Allows for towing behind ALL Cruzin Cooler Motorized Ice Chest Scooters
4 Pneumatic Tires with Sealed Ball Bearings - Makes for easy pulling over gravel, dirt and grass
Steel Inner Frame - Supports up to 300 lbs.
Large Branding Area - Call today for custom designs
Steel Tie-Rods
Access Drink Lid
Lockable Lid
Coolagon Connected with the Cruzin Cooler
The Coolagon is designed to work with all models of Cruzin Coolers for more ice or drink carrying capacity! All you have to do is simply attach this 50-quart ice chest to your Cruzin Cooler for added fun!
You can own the Coolagon today for $239.95, a whopping $60 off MSRP!
Looking for Discounts & Deals?
Click here to sign up for our Rescue Supply newsletter and be on the lookout for amazing deals on not just our Cruzin Cooler products but all of the amazing brands we carry.
By doing so, you'll start enjoying your outdoor activities easier than you ever have before—all for a price that won't break your wallet.