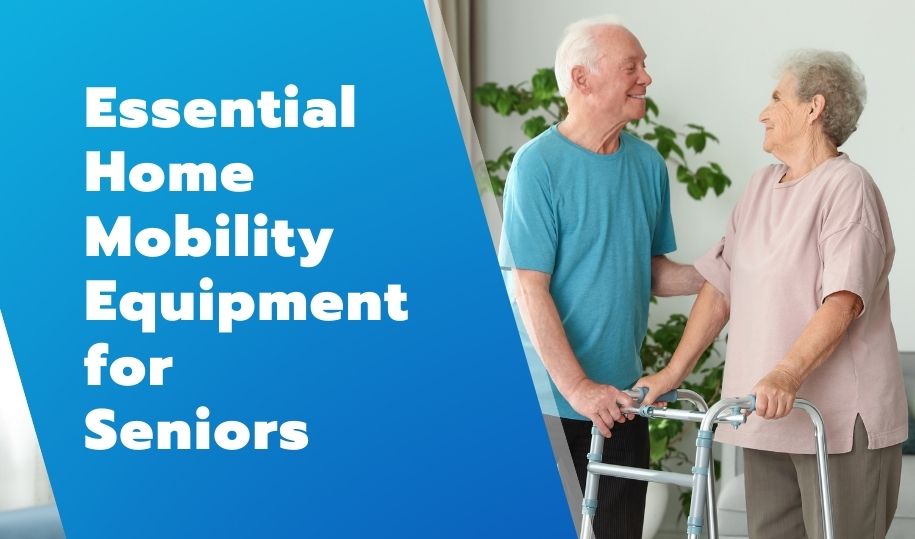 Getting around one's own home is something everyone wants and deserves, which is why home mobility equipment can be so important for many people. If you're looking for mobility gear to add to your home, here's the essential mobility equipment for seniors in their own homes.
Home Wheelchairs
One of the most important mobility devices a person can have is a good wheelchair for their home. Although not everyone needs one, those that do need a good quality one. A wheelchair is great for traveling throughout your home without using your legs unnecessarily, giving a lot more mobility to those who need it.
Wheelchair Ramps
Wheelchairs are great, but they do have their limitations that you can fix with other equipment and changes. Wheelchairs work best on smooth ground and can't climb stairs, which is why many people install ramps so they can get around these issues. From stair ramps to threshold ramps, wheelchairs need ramps to make mobility around the house easier and more accessible for everyone.
Electric Scooters
Wheelchairs aren't the only option for getting around your home with a mobility tool; an electric scooter can offer many of the same benefits of a wheelchair while being more compact. Similar to an electric wheelchair, this scooter can use its motor to move you around, saving your strength for other tasks than walking. There are many different types of scooters you can choose from, like knee scooters or ridable scooters, so you can pick the one that best fits your specific needs.
Mobility Canes
A cane is a great tool for anyone who needs help with mobility, as you can use it to keep balance while walking. There are many different cane styles you can choose from, both for style and function. Additionally, canes are great tools for many things outside just mobility aids, as you can use them to extend your reach and as protective tools.
Rollator Walkers
Walkers are a great tool for balancing while walking around, as they help with stability when taking a step. Rollator walkers are better at this, as you don't need to lift them in between each step and can use them to glide around your home. This is perfect for getting around small places or around messes, like toys on the floor, without straining yourself by picking up the walker constantly. You can easily get yourself a rollator walker by contacting mobility equipment suppliers.
Mobility Crutches
Another great option for mobility equipment is a crutch you can use around the home. Crutches are generally more temporary solutions as mobility aids, but they're necessary for times when a cane just isn't providing the necessary support. Crutches are great for taking a lot of pressure off your legs and moving it to stronger parts of the body while walking.
Chair Lifts
Stairs are some of the most difficult obstacles for people who need mobility aids. The vertical and horizontal movement can really throw people off and cause a lot of issues. That's why any household with stairs should seriously consider getting a chair lift in their home. This will make movement between floors a lot safer and easier for anyone who needs to travel between these levels. Also, stair lifts can be useful for carrying items between floors without putting yourself at risk.
Grab Bars
Although these are common in showers and baths, grab bars are great mobility equipment all over the house. These bars are great for grabbing onto to help stabilize yourself when moving about. You'll see these in bathrooms to prevent slipping in the shower, but they're great for any area with heavy traffic near a wall. Places where you need to turn or sit can also benefit from a good grab bar to help stabilize people during the change in movement.
Shower Chairs
The shower is a dangerous place, as the water makes everything slippery and makes falls a common occurrence. That's why a lot of mobility equipment focuses on making the bathroom a safer experience for the elderly and people who need the assistance. One staple of safety in the shower is a shower chair, where people can sit down and clean themselves safely rather than standing or laying in the shower, in which cases falls are a lot more prevalent.
Raised Toilet Seats
Toilets are another place in the bathroom that can lead to falls easily, as the shift in body weight when sitting down can cause all sorts of problems. A lot of people like to install grab bars near their toilets to help people sit down, but another tool you can use is a raised toilet seat to make this motion easier.
Accessible Doors
Traditional doors are a large problem for mobility around the home, as they swing in the way and require balance to operate. This is especially for doorknobs that are difficult to grab and turn, which is why changing your doors to accessible door systems is key to a good home. An easy change is changing your doorknobs to handles for easy grip. You can also get rid of the door or switch to sliding doors to make it very easy for someone who needs mobility assistance.
Bed Rails
Although a bed may seem inconspicuous, it can be a place with a lot of problems for people who need mobility assistance. The give in a bed can make it hard to move around and it's easy to fall off if you roll around in your sleep. Bed rails can be very useful, as they provide you with a place to grab to best exert your strength when getting in and out of the bed. Additionally, the rails can help keep you in the bed and prevent falls during the night.
Gait Belts
Gait belts are one of the best tools for transferring someone from one place to another, as they give you a place to safely grab while displacing the force to the person you're helping. This is a necessary piece of mobility equipment in any home with a senior, or anywhere someone might require mobility assistance. A gait belt is amazing for getting around the house and moving between different areas while increasing safety.
Pool Lifts
Although this isn't useful in every home, anyone who has a pool will find a pool lift useful. These tools make it easy to get in and out of the water safely for any swim you want to take. You can even use these on docks or anywhere else you might want to swim to give easy, safe access to the water.
This is just about all the mobility equipment you'll need in your home for any seniors in the house. This gear will make it easier and safer for seniors to get around and are well worth the investment.