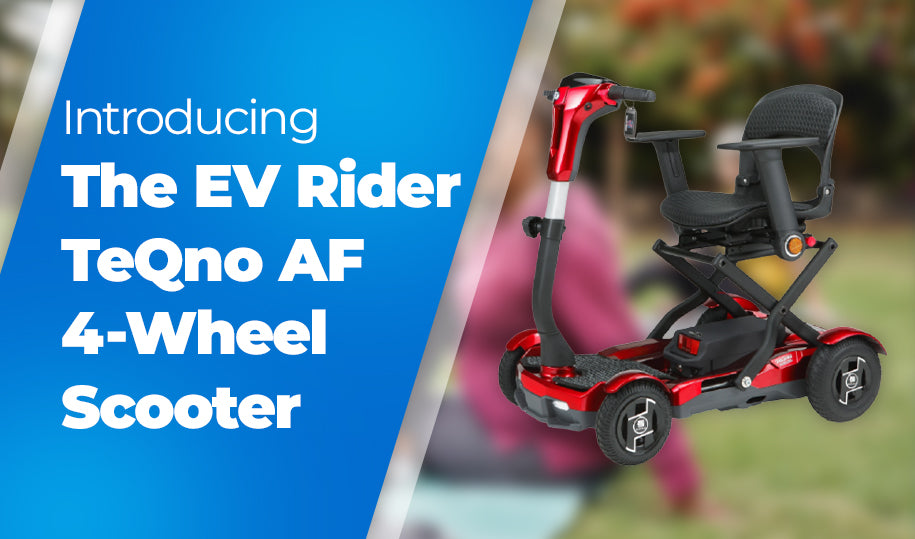 The team at EV Rider is happy to announce the arrival of our new folding scooter in the USA. This scooter is a major departure from our other models as it is a true travel scooter that is small, lightweight, and easy to travel with. When you first see it, this is not your typical scooter company by any means. you will not believe how compact it is. The EV Rider Transport AF+ scooter offers a new level of convenience and mobility.  
EV Rider Transport AF+ Auto-Folding Scooter
It automatically folds up with the push of a button, and it folds in seconds! Due to its ultra-tight turning radius, this compact scooter offers great maneuverability in narrow spaces. It features a height-adjustable tiller, LED headlight, and dual hand two-way throttle control. It can be stored virtually anywhere and easily fits in the trunk of most automobiles. Just press the button and watch this innovative scooter unfold! 
Product Features:
Folding Mobility Seat
Solid tires
T-Shape Tiller Type
Electromagnetic brake system
Introduction of EV Rider Transport AF+ Auto-Folding Scooter
The EV Rider Transport AF+ is one of the most convenient transportation devices available on the market today. Whether you are looking to purchase a scooter for your home, or you want to travel with ease, this product is an excellent option. The EV Rider Transport AF+ is known for its compact size and its simple, automatic folding system. The scooter features a 24V 11.5Ah lithium battery and weighs just 49 lbs. It can be easily transported and stored in most vehicles. The scooter offers a smooth and comfortable ride, making it an excellent option for those who have trouble walking or standing for long periods of time. 
Benefits of The Transport AF+
The EV Rider Transport AF+ scooter offers a new level of convenience and mobility. Thanks to its folding mechanism, the Transport AF+ will fit into the trunk of a car and can be stored in an airplane. The scooter is easy to use and can be set up in less than a minute. Its ergonomic design and comfortable seat make for a pleasant experience while driving. Saving money on fuel and maintenance, the Transport AF+ 4-wheel scooter is economical for any budget. It features a powerful 24V 11.5Ah lithium battery, which is approved for airline travel, making it the best choice for anyone flying. The Transport AF+ scooter is easy to fold, making it a great option for convenient storage and travel. 
Extended Product Information:
The EV Rider Transport AF+ Automatic-Folding Scooter Is Perfect for Travel
The Transport AF+ is a unique folding scooter that is perfect for travel. It folds down to a very compact size. It's ideal for anyone who has trouble getting around, or anyone who wants to travel with more ease. The Transport AF+ is also great for anyone with limited storage space, or anyone who wants a convenient scooter that can go with them on vacations, cruises, campsites, and more. The Transport AF+ is a full-sized scooter with a wide seat, large basket, and full range of mobility. It's the perfect travel scooter to help you get around wherever you go, and it's also great for everyday use. 
Highlighted Features of EV Rider Transport AF+ Automatic-Folding Scooter
This scooter is featured with folding mobility seats, and solid tires Also an electromagnetic brake system. It is portable, foldable, lightweight, and easy to store. It can be folded into a small size, so you can put it in your car. It is much easier to carry when it is folded. It is safe when you are riding because it will stop when you release the brake lever. It is easy to ride, when the brake is on the ground, you can push the scooter by your feet, it will move. When you release the brake, it will stop immediately. Overall it is very convenient to use. 
Customers Reviews:
Fabulous Scooter

This little scooter is fabulous. Push a button and it unfolds, push the other it folds up to look like a suitcase. When folded, it moves about like a wheeled suitcase. Pick it up and put it in the trunk. Great for the store and mall and other places where there are smooth surfaces. We look forward to traveling on planes and cruise ships again with this scooter. Haven't figured out how to put a cup carrier or basket on it yet but will figure it out.

Mark Chancey on Sep 01, 2021
Great scooter!!

This scooter is GREAT! It's very light and the battery lasts very long! I highly recommend this product! I had to contact manufacturers and they were very helpful!

Julie J. on Sep 01, 2021
Looking for Discounts & Deals?
Click here to sign up for our Rescue Supply newsletter, If you have any questions or concerns about this or any other mobility scooter, please contact us anytime at orders@rescue-supply.com or call us at our Customer Service Number (800-239-1797).
We hope you enjoyed our blog about the EV Rider Transport AF+. Would love the opportunity to share it with you. Having one of these compact, foldable scooters would be ideal for anyone that travels frequently, whether for business or for pleasure. Thank you for reading, and we look forward to serving you!