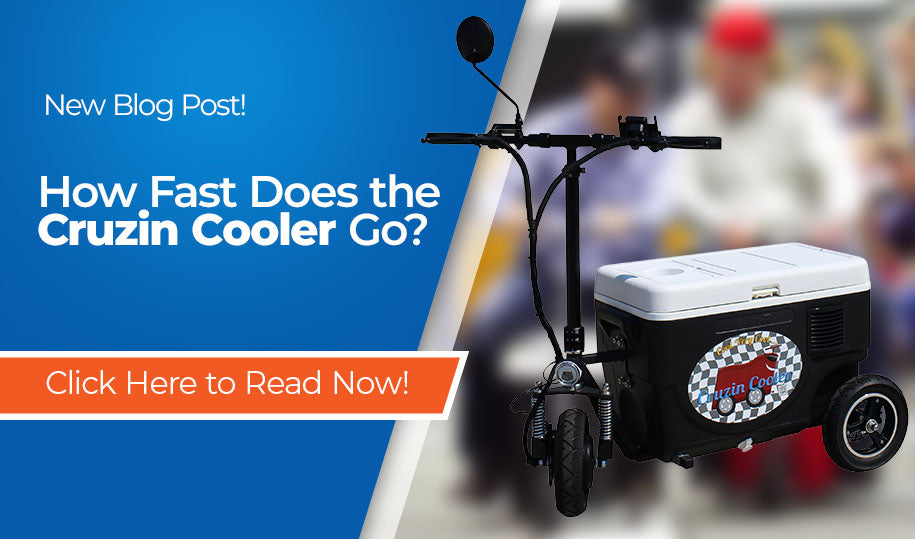 Have you ever wondered how fast a cooler could go while keeping your beverages chilled and refreshing? Look no further than the Cruzin Cooler – a revolutionary motorized cooler that marries convenience with excitement! The Cruzin Cooler has taken the market by storm with its unique ability to transport you and your refreshments at thrilling speeds. We'll explore the maximum speed of the Cruzin Cooler and uncover why it's the go-to choice for those seeking both functionality and a dose of adventure. 

The Cruzin Cooler's Top Speed
The Cruzin Cooler is a motorized marvel with an impressive top speed of 13 miles per hour (MPH). This innovative cooler not only keeps your food and beverages cold but also offers the excitement of swift transportation. Whether you're tailgating, fishing, camping, or hitting the golf course, the Cruzin Cooler ensures you can swiftly reach your destination without compromising on the refreshing coolness of your drinks.

Equipped with a variable 3-speed controller, the Cruzin Cooler lets you tailor the speed to your comfort level. Whether you prefer a leisurely cruise or a fast-paced adventure, the choice is yours. Adjust the speed setting to match your mood and enjoy a personalized riding experience that suits your preferences.

With an upgraded rider capacity of up to 300 lbs and a durable design, the Cruzin Cooler offers a safe and exhilarating ride for various users. Its sturdy construction ensures stability and confidence as you navigate different terrains. Embrace the thrill of speed while keeping your beverages cool, making the Cruzin Cooler the ultimate choice for those seeking a perfect blend of convenience, excitement, and fun!

So the next time you embark on an adventure or simply want to add an extra dose of excitement to your outing, consider the Cruzin Cooler. Its blend of convenience, exhilaration, and fun makes it the ultimate choice for those seeking a unique and thrilling way to keep their beverages cool. Discover the joy of cruising with a motorized cooler that takes your outdoor experiences to a whole new level. Happy cruzin from Rescue Supply!