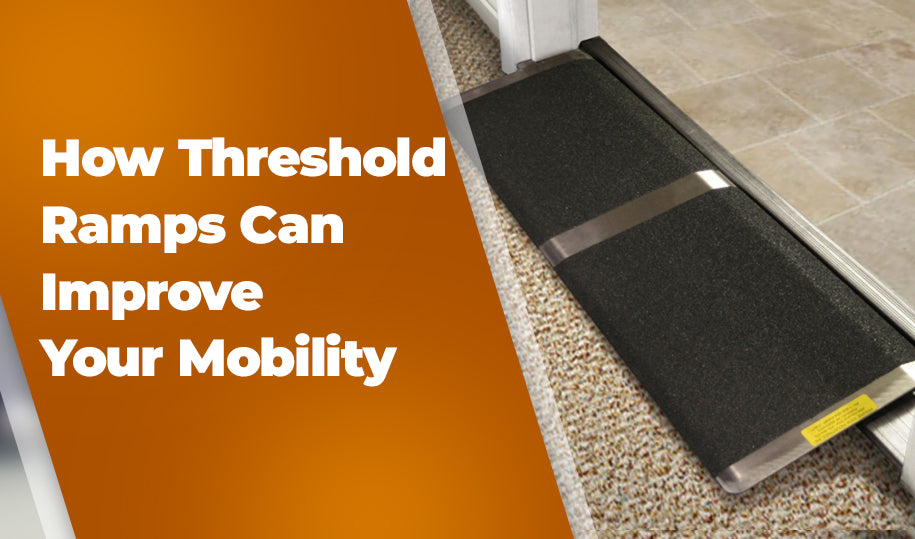 Have you ever been in a situation where you want to use your wheelchair or scooter to get somewhere outside your house but the area is too steep for you to get over? There are quite a few different devices that you can use to help you overcome these obstacles, including the Threshold Ramp. These devices are quick and easy to install, and they can make your life much easier. This blog post will guide you on how to find the right Threshold ramps. 
What Is a Threshold Ramp?
A threshold ramp also called a flat-to-slope ramp, is a simple device that helps people in wheelchairs, scooters, or walkers navigate raised landings, thresholds, or other spots where the ground or flooring changes levels. The ramp must be well-designed to provide a sturdy, well-balanced, and safe surface for people to move through doorways, raised landings, and other tricky terrain. 
Product Features:
Limited Lifetime Warranty.
Designed for doorways that swing in.
Holes punched in top corners for easy installation.
Lightweight, durable aluminum.
Anti-slip, high traction surface.
Hardware provided to secure ramp to a surface.
What Are the Various Types of Threshold Ramps?
"Ramps provide support and allow users to move in and around the home safely and freely. It is a cost-effective and practical solution to enhance mobility."
There are several types of ramps that are both associated with suitable for use as a threshold ramp. For example, if the threshold is only an inch or two above the walking surface, and the price is the ultimate concern, there are plans online to construct a simple wooden ramp that can provide adequate service under light-duty and favorable environmental conditions.
Extended Product Information:
Ramps for Use on a Sloped Surface
The term "ramps" is used to describe a broad range of products that are used to access a different level from the ground or floor. Ramps are used to connect a higher surface to a lower surface for a variety of reasons. Construction ramps are often used to provide access to a building site where there is a difference in height between the surface and the lower ground. Threshold ramps are a specific type of ramp which is used to connect a doorway or other level change, to a different surface or level. 
How Are Threshold Ramps Mounted?
Typically, installation of threshold ramp is simple and easy. Ramp plates usually require fastening to the landing or threshold before they can be used because they rely on the raised landing or threshold to support them. Ramp plates with a rise of an inch or more usually have two or three holes drilled at the top corners of the ramp. For ramps attached to wood, wood or machine screws drilled directly into the wood provide lateral stability. In the case of a concrete landing on which the ramp rests, then concrete lags and screws are necessary to secure the ramp to the landing.
Ramp Length Chart

Threshold Ramp Is Important Especially on Elderly & People With Disabilities 
Threshold ramps are secure and practical solutions to enhance the mobility of elderly and physically disabled people. They are easy to install and can be used by a wide range of people. By choosing a professionally-installed and expertly-designed ramp solution, you can enhance the mobility of wheelchair users, scooter users, and even elderly people by making it easier to move in and around the home with complete freedom. A threshold ramp can prevent accidents, injuries, and even death. As a building owner or manager, you should care because you could be held liable for injuries that occur on your property. As a business owner, you should care because you could be losing business due to not making your facilities accessible to all. As an individual, you should care because you shouldn't have to be uncomfortable in your own home. With so many options available it can be hard to narrow down the field. This guide will help you find the perfect solution. Ramps are highly beneficial to people with impaired mobility as they can easily move around their homes. They are a cost-effective and practical solution to enhance mobility and are designed to be aesthetically pleasing. A wheelchair ramp can be installed in your home by an experienced and licensed accessibility equipment dealer in New Jersey. They also help you to choose a ramp depending upon the internal and external architectural structure of your home. 
How Much Do Threshold Ramps Cost?
With so many different types of threshold ramps to choose from, it can be difficult to find the right one for your needs. All threshold ramps are not created equal. The cost of threshold ramps can vary greatly depending on their size, material, and construction. For example, a tubular aluminum threshold ramp can range in price from $75 to over $200. The size of the ramp you need will be the biggest factor in determining the cost of your threshold ramp. And if you're looking for the exact pricing of the Threshold Ramps, You can check our website www.rescue-supply.com or call us on our customer service number 800-239-1797, Monday-Friday 9 am to 5 pm. Rescue-Supply.com is an authorized dealer for every brand that we carry. You can rest easy knowing you will receive the full manufacturer's warranty with every purchase.


Customers Reviews:
Great Ramp

My door frame height is 3" and the ramp size was perfect. Just great for my wheelchair and my scooter, and doesn't take too much room. I love it.

Jose on Sep 25, 2019
Love it and will probably buy more!

I needed a small ramp to wheel things in and out of the house while moving and remodeling. It does move out of place, but you're supposed to drill it down per the instructions. I kick it tight, wheel up/down the piece of furniture and then kick it back in place if it does move. Definitely considering a second/third one for my other doorways so I don't have to keep moving it around the house.

Amoore on Sep 17, 2019
Independence

We needed a ramp for our doorway for my husband's electric wheelchair and this one is perfect. Now he has the independence to come and go without assistance over the threshold.

Denise G. on Sep 12, 2019
Looking for Discounts & Deals?
Click here to sign up for our Rescue Supply newsletter, If you have any questions or concerns about this or any other mobility scooter, please contact us anytime at orders@rescue-supply.com or call us at our Customer Service Number (800-239-1797).
The above information should help narrow down the options when deciding on the best fit for your specific needs. Thank you for reading, we are always excited when one of our posts is able to provide useful information on a topic like this! We hope you enjoyed our blog post on threshold ramps and look forward to your comments!