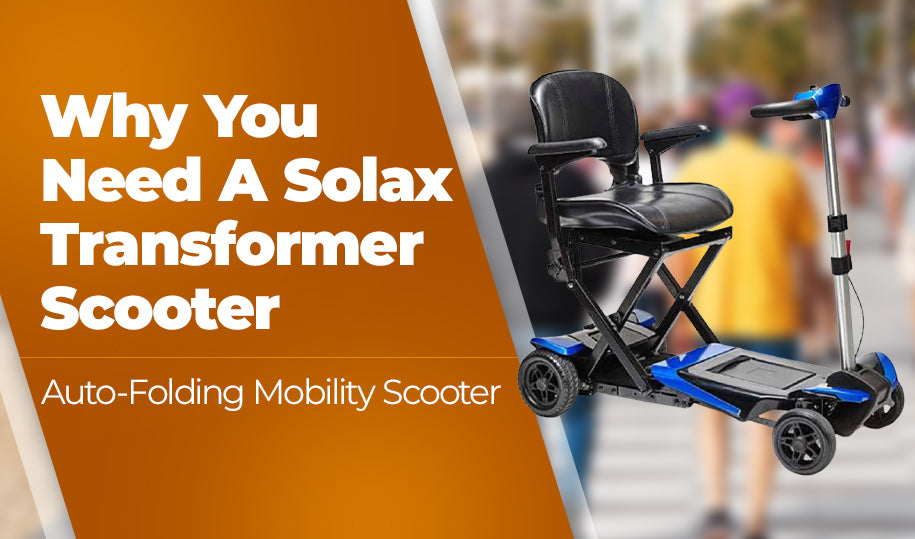 The Transformer is an automatic folding mobility scooter that can be used by anyone, at any time and place. It is the ultimate transportation solution for people with limited mobility, giving them an unprecedented level of freedom. It is equipped with an airline-approved lithium-ion battery that weighs only 4lbs, bringing the total weight of the unit to 55lbs. It also features a new ergonomic steering wheel with speed control, a horn, and a battery charge indicator.  If added stability is on your checklist. The Solax Transformer Mobility Scooter is a perfect fit. It is a true four-wheeled mobility scooter. 
Reviewing the Solax Transformer Auto-Fold Mobility Scooter
The Solax Transformer is the first and only fully electric folding mobility scooter on the market. This scooter has the ability to transform from a scooter to a wheelchair and back again with the flip of a switch. The Solax Transformer can be controlled with a remote control or a set of switches. It is lightweight and portable and has a 300-pound weight capacity. 
Product Features:
Remote Control.
Fully Automatic Folding & Unfolding.
Ultra-Portable.
Perfect for Aircraft & Cruise Ships.
300lb Weight Capacity.
13.5 Miles on a Single Charge.
Lithium Battery.
Advantages of the Transformer
The Transformer is the ultimate in convenience. It is the only fully electric folding scooter in the USA. Whether you're staying in a hotel or in a friend's house, The Solax Transformer is the perfect electric scooter to bring along on trips. It's ultra-portable and folds up in just seconds when not in use. There is nothing else like it on the market. This easy-to-use, ultra-portable electric scooter offers the ultimate in convenience. Offering Remote Control operation for opening and closing plus manual if required.
Extended Product Information:
Four Great Colors to Choose From
From a cozy and snug blue to a passionate red. Not into any of those two? You could also go for a sleek and simple black or even a happy and cheery yellow. Whatever it may be, feel free to choose the color that fits your style. Choose what makes you feel good!
Why Solax Transformer the Perfect Scooter for You?
"When thinking about getting a mobility scooter or wheelchair, it's important to find the one that's right for you and your need" 
The Solax Transformer electric scooter is the perfect solution for making traveling simpler. With its ability to fold up and go in any car, it's the perfect vehicle for the car lover who loves to take road trips or for the busy professional who can't afford to waste time or money with a gas scooter. The Transformer is the only folding electric scooter with the capability to be operated remotely. The Transformer is the most innovative design to date in electric scooters. The scooter folds up for easy storage and transportation. Unlike other scooters on the market, this one is equipped with a built-in charger and remote control for opening and closing. 
What I Liked About the Solax Transformer Scooter?
The Solax mobility scooters are a great way for people to get around their community. There is nothing else like it on the market. This easy-to-use, ultra-portable electric scooter offers the ultimate convenience. Offering Remote Control operation for opening and closing plus manual if required. The Transformer is designed to be ultra-portable, with its unique front wheel design. The Solax Transformer also offers an optional storage bag.

Customers Reviews:
Great Product

Easy to get in and out of your vehicle. Relatively lightweight for scooters. Now I am mobile after years of limiting my outings due to painful feet from neuropathy.

Dan on Oct 11, 2019
Worth Every Cent

The scooter is fantastic. Just took it to Venice and was great. Could not have done the trip without it. 

Dede on Sep 30, 2019

 
Super Transportable!

I waited a while to write this review to make sure I really did like it. And I do! It is easy to fold up and fit into my tiny car. It has also made two different airline journeys - with great compliments from the gate agents on how light and transportable it is. I am impressed that it can handle my weight, I am not a small person. It was a lifesaver while I had a broken foot, and it is still great to have around for me to keep up with adventures even though my mobility is challenged for long distances. I bought an extra battery and can make it through a whole day at Disneyland with one battery change by late afternoon/early evening.

Heather on Sep 17, 2019

 
Very Sturdy and Speedy

It is very sturdy and reliable. Best purchase I have ever made. I need knee replacement surgery and this is a lifesaver.

Lynette K. on Sep 11, 2019 
Looking for Discounts & Deals?
Click here to sign up for our Rescue Supply newsletter, If you have any questions or concerns about this or any other mobility scooter, please contact us anytime at orders@rescue-supply.com or call us at our Customer Service Number (800-239-1797).
Hope you enjoyed our blog about the Solax Transformer Auto-Fold Mobility Scooter. If you're looking for a travel mobility scooter, we hope you'll consider the Solax Transformer Auto-Fold Mobility Scooter as your next one!