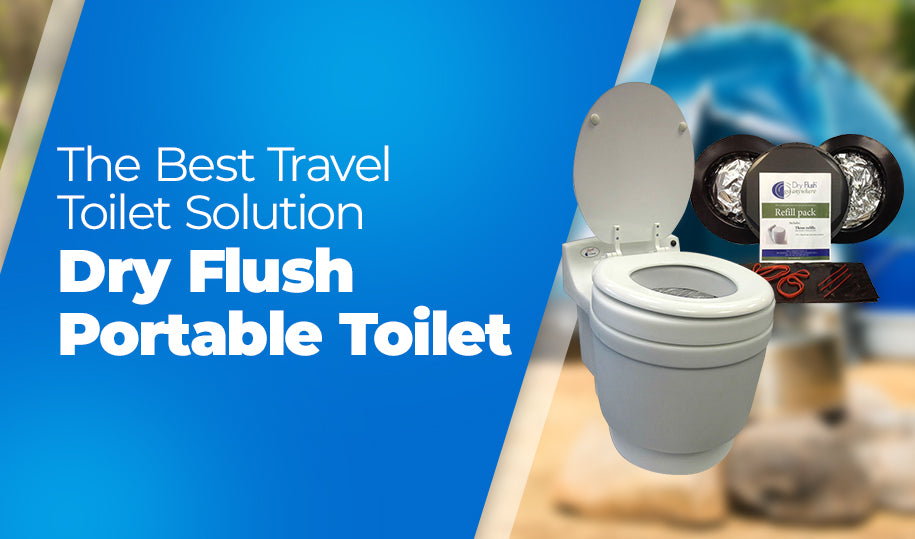 If you live life on the go, then you need to be able to go anywhere. The Laveo Dry Flush toilet lets you do exactly that. It doesn't matter if you're camping, in an RV, boat, cabin, or van. Just because you like to ruff it outdoors doesn't mean you can't appreciate a little luxury, and what an incredible luxury it is to have a way to go, wherever you go.
What is a Dry Flush Toilet?
A dry flush toilet is a waterless solution for toilets without plumbing. They come in all shapes and sizes, using different methods to control odor and dispose of waste. But most dry flush toilets are glorified buckets with a seat on them, not hiding odor well and making clean up unsanitary.

The Laveo Dry Flush toilet has a unique way of dealing with waste that doesn't rely on outdated methods like composting or covering material. Here's how it works.
How Does the Laveo Dry Flush Toilet Work?
The Laveo toilet by Dry Flush is self-contained and comes with everything you need already inside of it. When you flush, it twists the waste bag inside your canister until a new section of the bag is exposed. This method can hide odors for up to 3 weeks.
To run, it needs a 12-volt battery, but you also have the option of hardwiring it. Each canister of waste bags has about 15 flushes, and the Laveo dry flush toilet also comes with extra refills, including a thick outer bag to cover your inner waste bags.
The materials used are also high quality. Laveo Dry Flush toilets come equipped with a thick and comfortable toilet seat and seat cover, making going on the go a lot easier.
What Are the Advantages of Using Laveo Dry Flush Toilets?
The primary purpose of any dry flush toilet is to bring the comforts of home wherever you go. If you have to do a lot of maintenance, unsanitary cleanup, and have to suffer from uncontrollable odors, it defeats the purpose of having a dry flush toilet in the first place.
Using Laveo Dry Flush toilets takes all that out of the equation, focusing on bringing home-comforts whether you are camping, fishing, or anywhere far from plumbing. This is the primary advantage to using the Laveo Toilet by Dry Flush.
More Advantages of Using a Laveo Dry Flush Toilet:
The dry flush toilet is lightweight and portable
You can buy many accessories to make it more comfortable
Sanitary clean up
Self-contained with everything you need
Small enough to store anywhere
Easy to use
It comes with a comfortable seat and seat cover
No need to use chemical
It comes ready to use
Dry Flush Toilet Accessories
Another great reason to use the Laveo for your on-the-go needs is that it has many accessories, making it even easier to use and more comfortable. Unlike other brands of dry flush toilets, you can fit the Laveo Dry Flush toilet to your exact needs.
If you want to wire your battery and your power source is too far away, use these handy extension cables to make sure your toilet never runs out of power.
You have the option of mounting your Laveo Dry Flush toilet to the floor for added security. If you don't plan on moving your toilet from where it is, this is a perfect accessory to have.
The support rail is excellent to have if you need a little extra assistance. The rail elevates the toilet and also prevents accidental tip-overs.
Use the privacy shelter when you are using your toilet outdoors. It sets up in seconds and gives you the comfort you need when there are other people around.
If you and your toilet are nowhere near a power source, you should consider adding the solar charger to your accessories. Charge your Laveo toilet with the power of the sun.
Is the Laveo Dry Flush toilet a good choice?
If you are on the move or spend a lot of time outdoors, then the Laveo Dry Flush toilet would make the perfect travel solution. It's made from high-quality materials, is incredibly easy to use, compatible with various accessories, and is very sanitary. Going on the go, has never been easier.
What Our Customers Are Saying:
Love this amazing toilet

It works just as promised - and is super light weight and portable. We can use it anywhere with no mess or smell - amazing.

Bryce P. on Mar 21, 2021
Greatest invention ever!

Greatest invention ever. Tossed tank-style portable toilet after being blown away with the convenience of this.

Princess V. on Mar 18, 2021
Looking for Discounts & Deals?
Click here to sign up for our Rescue Supply newsletter and be on the lookout for amazing deals on not just our Dry Flush products but all of the amazing brands we carry.
By doing so, you'll start enjoying your outdoor activities easier than you ever have before—all for a price that won't break your wallet.